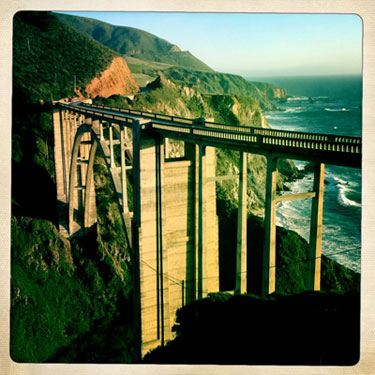 Bixby Bridge. Photo by Stan Russell
Welcome to Big Sur, California. This is the official, complete, and definitive travel guide to all lodging, camping, restaurants, gift shops & art galleries in Big Sur; The ultimate travel resource and guide to California's central coast and your complete Big Sur Visitors Bureau.

It's time to plan your springtime getaway to Big Sur.

Wildflowers always seem to be blooming, California Condors are flying overhead throughout Big Sur. California Sea Otters are rafting in the kelp beds.

These are just a few of the natural wonders that make Big Sur a great place to visit. Come on out and watch the natural magic unfold before your eyes, and create your own.
Big Sur International Marathon - Sunday, April 29, 2018
Be prepared for traffic restrictions on Highway 1 during the race time.
Information about race and shuttle schedules
Preserve Big Sur Scenic Beauty For Generations To Come
Big Sur is a special place to many people. To help keep it as pristine as possible and to ensure your own safety, please observe these sustainable practices and follow these rules of the road and basic safety tips.
American National Scenic Byway & California Scenic Highway



Highway 1 through Big Sur is a designated American National Scenic Byway & California Scenic Highway, an honor reserved for highways that are so distinctive they are destinations unto themselves.
Monterey Bay National Marine Sanctuary
The Monterey Bay National Marine Sancturary is a Federally protected marine area offshore of California's central coast. Stretching from Marin to Cambria the MBNMS encompasses a shoreline length of 276 miles and 4,601 square nautical miles of ocean.
Big Sur, offering the best lodging in Monterey County and the best lodging in California. Big Sur also offers the "Best Restaurant in California."
From Big Sur luxury hotels and spas to rustic creekside campgrounds we believe Big Sur offers The Best in a wide variety of possibilities and we think you'll agree. Join us for a romantic getaway and come share with us one of the most spectacular coastlines in the world.
Things to do in Big Sur
State Parks Activities
Pfeiffer Big Sur State Park has an active guided hikes, Junior Rangers, and Ranger Cubs programs through the summer months; Memorial Day through Labor Day. A series of activities for the whole family. Park day use fees apply for Nature Walks and daytime activities.

Local Hiking
From beaches to mountains... Hike along the streams in the cool, tree lined valleys. Climb up on the high ridges for a spectacular view of the coastline on the western slope and gaze into three million acres of wilderness in the Los Padres National Forest on the eastern slope.

Evenings offer the opportunity to dine in restaurants from fanciful to exquisite. Relax in lodging that ranges from rustic to luxurious. Camp out in the many well equipped campgrounds. Luxuriate at the local health spas. And of course one of the favorite past-times of Big Sur, Do Nothing!
Check the Calendar of Events page for local music, whale watching, festivals, marathons, lighthouse tours and many other events.

Do Nothing!
That's right. Relax and take in the magnificent beauty of Big Sur. Once you are here there is no reason to do anything more. Replenish your spirit by simply absorbing the weepingly beautiful vistas of Big Sur. Do Nothing in Big Sur and leave refreshed and rejuvenated from head to toe. Big Sur has been here for millions of years. We don't have that luxury. Make your reservation today!
AWARDS & RECOGNITIONS:
Traveler's Choice Award Winner for Top 25 Destinations in the United States.
In other awards, Big Sur was voted "Best Place to Play Hookie," and "Best Romantic Getaway." Big Sur is also home of the "Best Marathon in North America" and the "Best Hotel in North America." Adding to our 'best of' list, Big Sur is now home to the "Best Restaurant in California," per the Zagat Survey. National Geographic Traveler listed Big Sur as one of the "50 Places of a Lifetime/The World's Greatest Destinations." Consistently a 'top pick' for weekend getaways and fantasy vacations."
---
It is here in Big Sur that I first learned how to say Amen
~ Henry Miller
---

Local weather information for Big Sur including hourly forecast, averages and records, and detailed forecast. Evenings can offer spectacularly clear skies, which are perfect for star gazing. Bring layers of clothing because at this time of year it can be sunny in the afternoon and very cool in the evening.