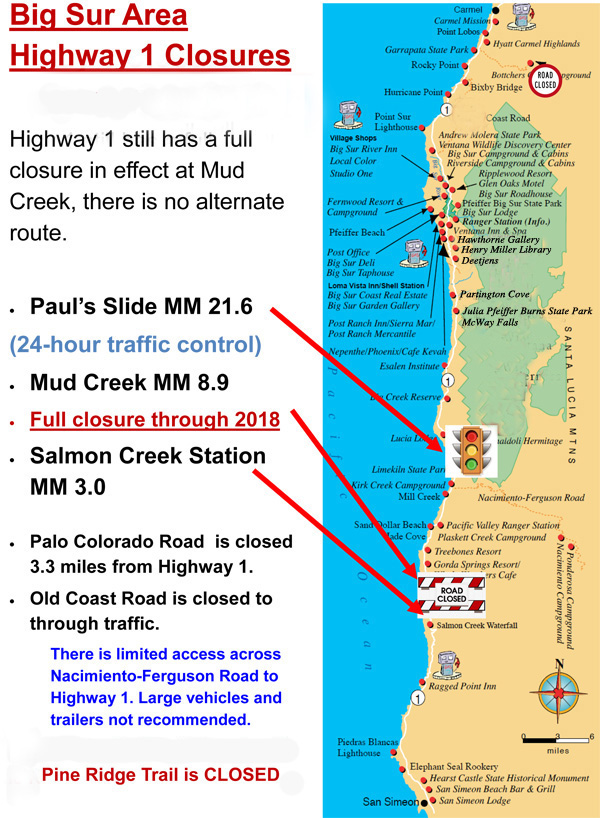 Google Map which shows alternative routes via Nacimiento-Fergusson Road
From Highway 101 take the Jolon Road exit. If you are approaching Jolon Road from the north on Highway 101 take exit #283. If you are approaching Jolon Road from the south on Highway 101 take exit #252.
The Big Sur Blog posts current breaking updates regarding Highway 1 and local information
Our Facebook page will have breaking news about current events.
---
FOR IMMEDIATE RELEASE:
FRIDAY, OCTOBER 13, 2017
Caltrans today announced the opening of Pfeiffer Canyon Bridge to public travel and reopened it at 1:10 PM. This opens to the public 35 more miles of clear driving south of Carmel. You can now drive 62 miles south of Carmel on Highway 1. To drive "through" Big Sur travelers will have to take Nacimiento-Fergusson Road detour around Mud Creek slide, which is scheduled to reopen sometime next summer.

Pfeiffer Bridge rendering

After the bridge opening, Highway 1 in Monterey County will provide 35 additional miles of Hwy. 1 for travelers to Gorda (PM 10). State Route 1 remains closed from north of Salmon Creek, just south of the Ranger Station (PM 3) to just south of Gorda (PM 10) due to the Mud Creek slide. State Route 1 south of Salmon Creek is accessible via State Route 1 in San Luis Obispo County near Ragged Point.

REMINDER: Travelers still CANNOT access the entire length of Highway 1 from Carmel to Cambria but local businesses are open on both sides of Mud Creek.

Pfeiffer Canyon Bridge [PCB] (PM 45.52)
Final work to continue for several weeks but Pfeiffer Canyon Bridge will provide access to both locals and the public. There will be some weekdays that will require a lane closure consisting of one-way reversing traffic control but once the bridge opens, it won't need to fully close.
Mud Creek (PM 8.9)
Mud Creek had a major slide on Saturday, May 20, 2017, losing over 5 million cubic yards of material. Caltrans continues with its plan to realign the existing terrain. The projected timeline to safely open to public traffic is late-summer 2018 at an estimated cost of $40 million.

There is currently no public access through the Mud Creek area since this remains an active, emergency construction zone.

Paul's Slide (PM 21.6)
Paul's Slide is still active but the 24/7 one-way reversing traffic control with flaggers has been replaced by a traffic signal installed Thursday, Sept. 28 and temporary guardrail (k-rail) in the centerline.
Los Padres National Forest Prohibits Camping Along Nacimiento-Fergusson Road
Los Padres National Forest
For Immediate Release
August 11, 2017
Contact: Andrew Madsen (805) 961-5759
Twitter: @LosPadresNF
Website: www.fs.usda.gov/lpnf

GOLETA, Calif., August 11, 2017– Los Padres National Forest officials today announced that dispersed camping along the Nacimiento-Fergusson Road (Forest Road No. 22S01) on the Monterey Ranger District is prohibited under a new Forest Order. This prohibition is effective immediately, and will be strictly enforced due to public health and safety concerns.
This Forest Order will remain in effect through August 10, 2018, and violations of the Order are punishable by a fine of $5,000 and/or six months in jail.
The video below shows the Pfeiffer Canyon Bridge demolition which occured Saturday, March 18, 2017. This bridge was located at Mile Marker 45.5 which is about a mile south of the Big Sur Ranger Station. The bridge replacement, seen above, was completed in October 2017 and is now open to the public.
Helpful blogs and links:
County Road Closures (information about Nacimiento-Fergusson Road)
California Highway Patrol Incident Information
California Department of Transportation

Download our local Big Sur Visitors Guide in Adobe PDF.