When you can find Monarch butterflies in Big Sur

Monarch Butterflies return to Big Sur in October and migrate north in January. You can see them clustered in the trees early in the morning. During the day you'll see them flying around.
Where you can find Monarch butterflies in Big Sur

You will see butterflies all over Big Sur, however
Andrew Molera State Park
is one of the better places for observing them. This is where they roost in the Eucalyptus trees in Cooper Grove (the grove of Eucalyptus trees by the Cooper Cabin) along the Big Sur River. The park is open to day use and walk in camping.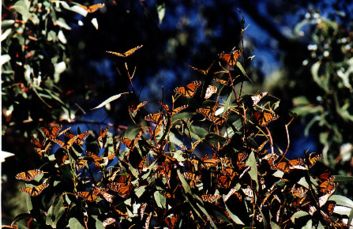 More information about Monarch butterflies.

Like many other butterflies, monarchs go through four life stages: egg, larva (caterpillar), pupa (chrysalis), and adult (butterfly). Depending on temperature, the eggs hatch in about five to 10 days, forming larvae (defined), which promptly devour their used-up eggshell.
Monarch larvae feed exclusively on species in the milkweed family. When they outgrow their rigid exterior, called a "cuticle," then they molt, eat their skin, and continue growing in a larger cuticle.
After four molting cycles, they form a chrysalis, sometimes called a pupa (defined). The chrysalis hangs under a leaf for a couple of weeks, while the butterfly forms inside it. Finally, the developing butterfly positions its legs downward, splits the chrysalis, and pumps fluid into its wings to harden them.
This monarch butterfly weighs less than 1 gram, yet it migrated thousands of miles to find a suitable home for the winter.
In its summer territory, which includes most of North America, monarchs mate 3-7 times and live from two to six weeks. Then, apparently signalled by the shortening days, new, non-reproductive butterflies hatch. Talk about division of labor! the reproductive butterflies don't head south, and the migratory ones don't reproduce (until the following year). But they're both monarchs. If that's starting to sound pretty intriguing please visit
Monarch Watch
and
Journey North
for more detailed information about the mating and migration habits of Monarch butterflies.