From 1899 until 1974, families lived and worked in the buildings atop Pt. Sur. Today Point Sur is a ghost town. The unique stone lighthouse still guides ships with its light, though it is now totally automated.

LIGHTHOUSE TOURS
The number of people allowed into Pt. Sur is limited to preserve the sense of isolation and drama.

Your group will meet in the parking lot at the base of Pt. Sur's giant rock formation, where a docent will lead you on a leisurely uphill walk to the lighthouse, a half mile away. Your group will have plenty of time to climb the lighthouse tower for a look at the light itself, and to take a turn around the catwalk outside the light tower. The walking tour consists of a rise in elevation of 360 feet and two stairways of 40-60 steps each.

Winter
(September through March):
Saturdays and Sundays : 10:00 AM
Wednesdays: 1:00 PM

Summer
(April through August):
Saturdays & Wednesdays: 10:00 AM and 2:00
Sundays: 10:00 AM
Thursdays (July and August) 10:00 AM
Moonlight Tours for 2018
Monday, April 30; 7:00 PM

Tuesday, May 29; 7:15 PM

Wednesday, June 27; 7:30 PM

Thursday, June 28; 7:30 PM
Friday, July 27; 7:15 PM
Saturday, July 28; 6:45 PM

Sunday, August 26; 6:45 PM

Monday, August 27; 6:45 PM

Monday, September 24; 6:00 PM
Tuesday, September 25; 6:00 PM
$20 Adults, $10 6-17 years, 5 and under are free.
Arrive Early. First come, first served. Reservations not accepted.
Visa, Mastercard, American Express, Discover accepted
ADMISSION
Adults: $15.00 (Moonlight Tours $20.00)
Teen (6 to 17) years old): $5.00 (Moonlight Tours $10.00)
Children 5 and under are free
Prices subject to change.
Visa, Mastercard, American Express, Discover accepted
THE RULES
Visitors may not remain in their vehicles.
No:
Pets (even left in cars)
Picnicking
Large motorhomes or campers
Strollers or baby carriages
Beach access
Smoking
PHOTOGRAPHY
Photography for personal enjoyment is encouraged. Photography for publication requires a permit.

ACCESSIBILITY
California State Parks does not discriminate against individuals with disabilities. Prior to arrival, visitors with disabilities who need assistance should contact the park office to determine if their specific needs can be met. Call well in advance of your visit (831) 667-0528. To use the California Relay Service with TTY, call (800) 735-2929 (MCI) or (877) 735-2929 (Sprint) and without TTY, call (888) 877-5379. Online access:globalrelay.mci.com or www.sprint-crs.com
WEATHER/CLOTHING
Be prepared for cold windy weather, even in summer. Wear comfortable walking shoes and layered clothing. Tours may be cancelled du to extreme weather.
GENERAL INFORMATION
Call (831) 625-4419 or e-mail info@pointsur.org
GROUP TOURS
Groups (maximum of 40 people) may arrange for special private tours of Point Sur. A minimum of $200 will be charged. Call (831) 625-4419 for information or e-mail info@pointsur.org
Along the way you will:
See Gray whales on their ocean migration route (December through May) and during the summer months you may be lucky enough to see Humpback and Blue whales.
Watch pelicans fly in formation below you, maybe glimpse an eagle, California condor, or perigrine falcon
Look down on rocks and crashing surf, look back on the Big Sur coastline
Feel the fog, the wind or the sunshine on your skin (often in the same tour)
See incredible spring wild flower displays
Hear about the "ghosts" of lightkeepers past (Moonlight Tours)
After a walk past the light station buildings, and a stop at the visitors center, the group will return to the parking lot. You will have experienced life on a remote lightstation, if for only a few hours.

For Specific details, times, pricing, and group information, visit the official Point Sur website

Big Sur has the honor of having one of the Top 10 Haunted Lighthouses in the United States.
Daily and moonlight tours available. www.pointsur.org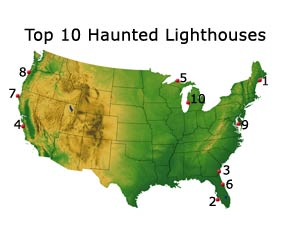 Aerial photographs of Point Sur Lighthouse




Download our local Big Sur Visitors Guide in Adobe PDF.