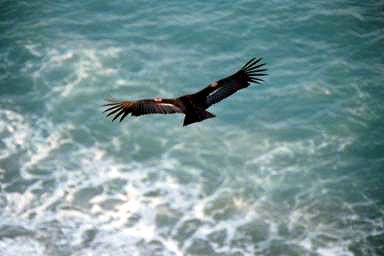 Condor Or4 taking a shoreline flight May18. Or4 was released March 5, 2000.


photo: Stan Russell©

Click on photo to see a larger image.


California condors, Gymnogyps californianus, are currently being reintroduced to the central coast by the Ventana Wildlife Society, which is a non-profit, 501(c)3, organization. The Society is dedicated to the preservation of native plants and animals through research, education, and restoration. By the efforts of the Ventana Wildlife Society, Condors are now seen throughout the mountains, coastal canyons and valleys of Big Sur. You can help in these efforts by donating time or money. Please contact the Ventana Wildlife Society directly if you would like to help.

At the turn of the century, the California condor (Gymnogyps californianus) population began to plummet after decades of wanton shooting and poisoning. While habitat loss is a factor and limits the total population, the habitat that remains is still intact to sustain a population of condors. In 1987, the last wild condor was taken into captivity to join 26 others. A successful captive breeding and reintroduction program turned the tide. In 1998, the total population reached 150 birds, and 35 of those were in the wild.

Given the success of bald eagle reintroduction, Ventana Wildlife Society was requested by the US Fish and Wildlife Service to join the California Condor Recovery Program in a ten-year first phase effort to bring the condor back from the brink of extinction. VWS is the first private non-profit in California to release condors. These majestic birds can be seen flying over the mountains and valleys of California's Central Coast. The goal of VWS is to restore condors to California.

The latest information about the released condors is summarized in the Condor Reintroduction Notes From the Field. (Field Notes supplied by the Ventana Wildlife Society)



Click Here to download our local tourist Big Sur Guide in Adobe PDF. (800k)
Click Here to download a birder's checklist of all the birds known to exist in Big Sur.

---
Notes from the Field, January 2005

Big Sur Update

The Big Sur condors met the New Year with bright and curious eyes as they swooped down upon a backcountry feeding site to investigate the mammoth-sized meal awaiting them. On January 4, a day that was most likely a first for all of the Big Sur birds, an elk carcass was placed at one of VWS's established feeding sites. The deceased bull elk was donated to VWS by the U.S. Fish and Wildlife Service after it was fatally wounded by another male elk during a common breeding season fight for dominance at the San Luis National Wildlife Refuge in Los Banos. Not only did USFWS donate the elk to the VWS condor project, but they delivered it straight to our Big Sur office and drove it up to the feeding site for us. The condors met their cervid feast with timid wonder, but came to realize that the antlered giant was in fact food. We wish to impart a very gracious 'thank you' to our new friends in Los Banos for their help -- Tim, Jack, and Frank -- for whom without, the Big Sur flock might not have tasted such wild fare.

As reported in December 2004, thanks in part to new GPS tags on a few of the birds, Orange Tag 199 was documented roosting well north of our usual tracking range, in the Soberanes Canyon area around Garrapata State Park. Well, into January Mr. Adventure (199) returned to the Soberanes area, only this time he brought a buddy. Both 199 and 204 (also an Orange Tag) were not picked up within our tracking range on New Year's Day, which prompted us to drive up to Soberanes Canyon to check for the two birds. From January 2nd to the 4th, both birds were hanging out there before returning to the Big Sur area. So, you residents of the Carmel area keep your eyes aimed toward the sky on those breezy, sunny days -- the condors are starting to venture your way.

A condor field crew meeting was held at the Santa Barbara Museum of Natural History around the middle of the month. Condor biologists from different release sites met to share ideas and brainstorm a more congruent game plan among the five release sites -- Big Sur, Pinnacles, Ventura, the Grand Canyon, and Baja. We discussed new methods for attaching ID tags to wings and are currently holding the W2 cohort (294, 298, 301, 303, 311) in our flight pen so that we can fit them with the new wing tag model. In a short time, we will have them back out soaring the coastal skies with their new, more condor-friendly, tags. On that note, 318, another member of the W2 cohort, who has been recuperating from a slight wing injury at the Pinnacles flight pen, has been showing healthy signs of improvement and will hopefully be released back in Big Sur in no time at all.

Remember that if you happen to be in the Big Sur area and come across a VWS biologist tracking along the highway, we are more than happy to chat about condors, and hopefully even help you spot one. Just please remember that condors are wild animals, from a population that is slowly, but surely, rising from the brink of extinction. To see these monolithic birds soaring above such a landscape as Big Sur can truly make you feel that you have evaded the grip of self, if only for a moment. But, please remember to experience such moments from a distance, for the betterment of all wildlife.
--Clint Scheuerman, Big Sur Condor Crew Leader

Pinnacles Update

The rain continued to fall over Pinnacles National Monument at the beginning of January, adding color and new life to the beautiful landscape. The rolling hills have turned a verdant green and wildflowers are starting to bloom all over the park. Vibrant patches of Indian Paintbrush and Shooting Stars are currently burgeoning along the Condor Gulch trail. The months of February and March are going to be fabulous for observing the first blooms of the year, a few butterflies here and there, and California condors soaring over the majestic High Peaks.

306, a young female, was the first condor from the second cohort to discover the rocky peaks this month! She had been observed making her longest flight prior to her High Peaks visit, but surprised us all when she soared for almost four hours before landing on the west side of the peaks. She roosted near Machete Ridge, a rock-climbing route, and made it back to the flight pen the next afternoon. Since then, 306 has considerably improved in her flight skills and can often be seen flying beyond Grassy Canyon and throughout the High Peaks area.

In December 2004 I mentioned that we were going to be trying out a second of one of our more permanent feeding sites in hopes that the birds would make significantly broader movements in Grassy Canyon. As a team, we decided to re-release 286 from our flight pen to help lead the second cohort to this feeding site as well as the High Peaks. 286 had served as a terrific mentor to the young juveniles shortly after their release, and we felt that he was the best candidate to excel in that leadership position once again. He was released towards the end of the month, and within one day, 306 had made her way to the High Peaks and all birds were flying over the new feeding site clearly identifying the food. There have not been any observations made of the birds feeding at the new site yet, but we are anticipating that they will eventually have the gumption to land there. Simultaneously, we are using a second feeding site to ensure that all birds are being fed and that there is available food in their familiar territory.
-- Rachel Richardson, Pinnacles Field Supervisor